Welcome to
The Race Horse Tavern
No Matter what night of the week you are planning on coming out …. we have something going on for you! Tell your friends today, and stop out for a good night out!!
Hours
Mon: 3:00 Pm – 11:00 Pm
Tue – Wed: 3:00 Pm – 12:00 Am
Thu – Sat: 12:00 Pm – 2:00 Am
Sun: 12:00 Pm – 12:00 Am
Location
738 N Biesecker Rd.
Thomasville, PA 17364
 since 1998
About The Race Horse Tavern
A local neighborhood bar introducing a Fresh New menu, Fantastic and Knowledgeable Bartenders and staff, New Ideas. A fun, friendly Atmosphere, Pool Leagues on Sunday,Monday,Tuesdays,Wednesday & Thurdays nights. Karaoke on Thursday nights Also BIKE NIGHTS on Thursdays starting MAY 4TH 2023 THRU OCTOBER. Live music every Friday, Saturday and Sunday inside on our stage or outside on our 4 seasons patio!!! With a smoke free environment after 7:30pm. Seasonal Seafood Sunday's.   We look are looking forward to serving you. And we thank you for your buisness!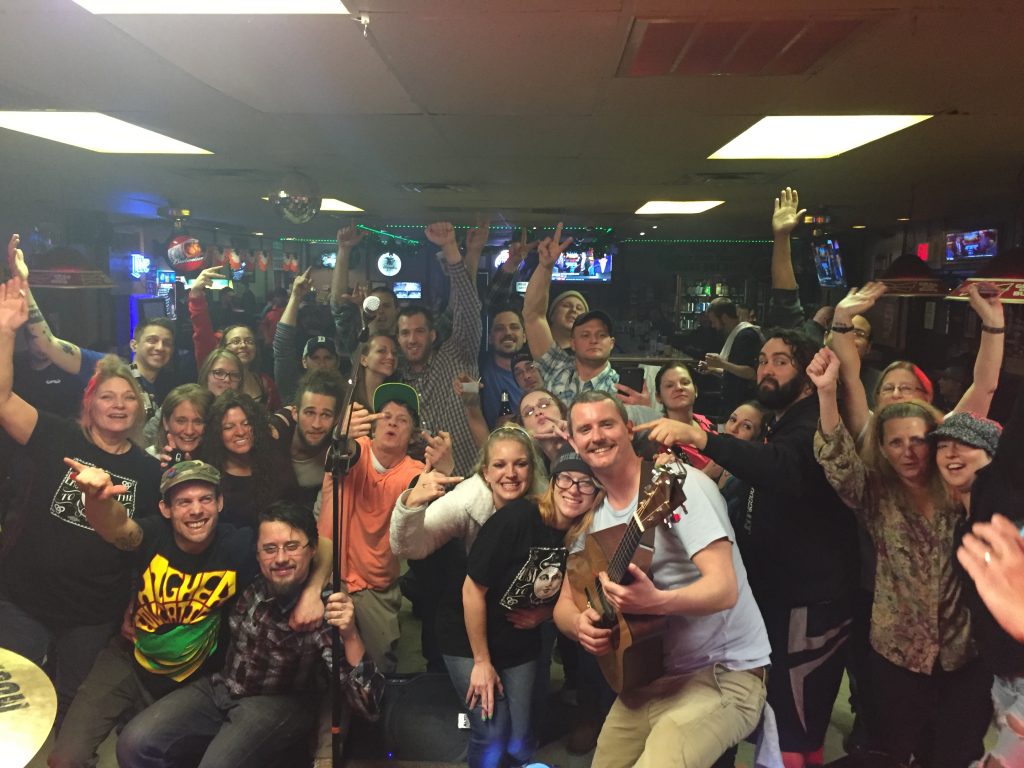 Every TUESDAY
WORLD TAVERN TRIVIA RETURNS !!!
STARTING TUESDAY APRIL 4TH 2023
EXCITING BAR TRIVIA
Enjoy a night out with your friends while you Eat, Drink, and THINK! Answer topical and exciting questions from hilarious categories designed for you and your team to have fun at your bar. Plus, earn a victory in a Trivia game and you'll be entered into one of our four online National Trivia Championships events – where $10,000 in cash is on the line every year!
THE GAME
Each Trivia game lasts about two hours, with three periods (2 rounds each period) consisting of an assortment of questions in each round.
For each correct answer, your team receives 10 Brain Cells (points). You can also double your Brain Cells during Period 2 or 3 (Rounds 4, 5, or 6).
The team with the most Brain Cells in a period may win a prize from the bar (usually an appetizer or gift card). The team with the most Brain Cells on the night wins any prize the bar may offer, PLUS an entry into our quarterly National Trivia Championships!
ATTENTION!!!
OK peeps this is a public service announcement from the RACEHORSE TAVERN. My family has owned the Tavern since 1988 (35 years). I acquired it thru the untimely passing of my father almost 12 years ago. The reason for this post is this, We've been doing live music on and off since the very beginning and as of the last 20 years at least every weekend. Now to my point the cover charge has always been $5. I have spoken to both sides of this debate for opinions from both sides. I can assure you that whatever comes in at the door is ALWAYS given to the band as part of their pay. As you are all aware EVERYTHING is increasing in price and that the list would go on well into tomorrow, so with that being said we are raising the cover charge at the RACEHORSE TAVERN to $10. We will continue to have other event's that may require a higher entry price but you will be well informed if that is the case or if it will be a ticketed event.
We try to bring you the very best of local and regional acts, and we will continue to do just that!!!
The other piece of information I would like to let you know is that starting Friday MARCH 3RD all who are present for the start of the entertainment will be expected to pay the cover. For those who have been there for a while such as after work, or just hanging out
we will courteously allow you to finish your drink and or food. no more then 30 minutes, you will then be required to pay cover to stay with us or come back on another day.
For those interested in reserving a table you will be required to pay the cover charge for the entire table based on # of seats you are reserving, or for however many it is sitting at the table, upon entry regardless of when you come in.
Please keep in mind if you are only reserving seats for 2 or 3 people you will be sitting at a table with other cool people just like you.
We will continue to be smoke free after 7PM and WILL stay that way until next business day. We have provided you a 4 seasons patio that is heated and out of the elements for your smoking needs during inclement weather. You may also take advantage of our full service bar out on the patio as well. We will have access to your tab at any cash register if you started one inside you may add to it outside with either food or drinks or both.
Please remember if you have any complaints or discussions about this matter PLEASE address them to me not the bartenders as my Staff will be following my direction in doing their job.
MUSIC 8:00 PM TO 12AM !!!
SURE TO BE A GOOD TIME !!!
FOR A GREAT NIGHT OF MUSIC !!!
Hope to see you all here.
AS ALWAYS WITH FULL BAND'S WE WILL BE SMOKE FREE FOR THIS EVENT AFTER 7:00 PM!!!
$10.00 FOR EVERYONE STAYING FOR THE ENTERTAINMENT
STARTS AT 7 PM!!!!
FRIDAY MARCH 31ST "COLLEN ALVAREZ BAND"
This Friday March 31st Back at the RACEHORSE TAVERN it's "COLLEN ALVAREZ BAND"
Colin Alvarez is bursting with a creative level of energy that would dwarf a supernova . . . consider his array of accomplishments over the past three years: Colin produced the new CD you hold in your hands, became a father for the fourth time, left his native state of Georgia to launch a fresh career in Pennsylvania, purchased a new home and is juggling all of this with ease and poise during a worldwide pandemic. Whew! Colin's uncanny ability to harness this swirling cyclone of activity – and to pull in such a vibrant team of musical talent – and pouring it all into the passionate soul that breathes life into this new music is remarkable. It's the creative spark and inspiration that carries this CD to the next level – you'll hear it, and feel it, from the first note to the last. I can say with all sincerity, it's been a Long Time Coming!
MUSIC 8:00 PM TO 12AM !!!
SURE TO BE A GOOD TIME !!!
FOR A GREAT NIGHT OF MUSIC !!!
Hope to see you all here.
AS ALWAYS WITH FULL BAND'S WE WILL BE SMOKE FREE FOR THIS EVENT AFTER 7:00 PM!!!
$10.00 COVER FOR EVERYONE STAYING

FOR THE ENTERTAINMENT
STARTS AT 7 PM!!!!
Every Thursday
Karaoke Every Thursday night from 8:00PM TO ????
Premium Karaoke Entertainment Enterprise located in the heart of York, Pa. Female owned and inclusive, we center our entertainment services around creating a community of friends and fans who love music, singing, and most importantly to have fun!
YOU BE THE STAR ON OUR STAGE ! COME SHOW US WHAT YOU HAVE.
ONCE WE GET ROLLING WE WILL HAVE CONTESTS, PRIZES AND GIVEAWAY'S
Every Thursday "BIKE NIGHTS"
FIRST NIGHT APRIL 20TH 2023
BIKE NIGHTS or Request and trivia as well Every Thursday night from 6PM TO 10PM with JODY STAMBAUGH!!! OUT ON OUR COVERED PATIO AND HEATED FOR THE WINTER!!!
Starting APRIL 20TH 2023 we will have our "RACEHORSE  BIKE NIGHTS" weekly and  Will CONTINUE on thru until the fall of 2023 when we move into the 4 seasons patio room now called "THE STABLES"!!!!
Each week will be a different theme so stay tuned for upcoming events!!!
THIS WEEK IT'S "TBA" YOU GOTTA PLAY TO WIN !!!
ONCE WE GET ROLLING WE WILL HAVE CONTESTS, PRIZES AND GIVEAWAY'S
SATURDAY APRIL 1ST
SATURDAY APRIL 1ST
"DYING BREED"
This Saturday April 1ST back at the RACEHORSE TAVERN it's "DYING BREED"
HAVE YA JUST HAD IT /\ UP TO HERE WITH ALL THE "80'S TRIBUTE" BANDS ???
WHAT THE HELL HAPPENED?? REMEMBER GROWING UP WATCHING YOUR PARENTS GET OFF ON "HAPPY DAYS" ….?? WELL….THIS BAND NEVER STOPPED….!!
"DYING BREED" NEVER BLINKED AN EYE!! THEY HAVE BEEN….AND NEVER SKIPPED A BEAT!! LITERALLY!!
NO TRIBUTES HERE! THEY ARE THE TRIBUTE!!…a gathering of talented, PASSIONATE musicians, DOING WHAT THEY'VE ALWAYS LOVED… brought together by the bands founder, JACKIE JOYCE, who's life-long dream has been to create AN EXPERIENCE THAT LEAVES THE AUDIENCE BREATHLESS AND BEGGING FOR MORE!
IN A WORLD WHERE HAMMERJACKS NEVER SHUT DOWN!! WEARING YOUR JEANS PASSED YOUR ASS MEANT YOU WERE ON YOUR WAY TO THE BATHROOM!! "RAP" MEANT….YOU WERE HAVING A CONVERSATION!!..BANDS ACTUALLY "PLAYED" GUITAR LEADS….AND YES….WE STILL SAY PRESIDENT REAGAN ! HELL YEAH !! (yes….there were "OTHER" Reagan Years TOO…the Black Sheep)
COME…..EXPERIENCE THE MAGIC !!
COVERING CLASSICS BY: HEART; DIO; STEVIE NICKS/MAC;VAN HALEN; DEF LEPPARD; SCORPIONS; PRIEST; METALLICA; JOPLIN; DOKKEN; MAIDEN; QUEENSRYCHE .. and the list goes on and on….A BAND LIKE NO OTHER YOU'VE HEARD….you'll know why once you've seen them.
YOU KNOW THE DRILL….BRING THE AQUA NET, YOUR DANCIN' SHOES, SOME IBUPROFEN AND….A DIAPER !!
PENNSYLVANIA….. YOU READY TO ROCK??
Yea… this band is NOT just another cover band … playing WHATEVER just for "the party"…. THIS BAND IS a FORCE OF NATURE! Come see WHY they've acquired almost 3,000 followers on social media… and that's ACTUAL FOLLOWERS.. not cousins and aunts and uncles….
From the FIRST NOTE you will understand why this band is ALL THE BUZZ and is leaving fans BREATHLESS everywhere!
Heart~ Dio~ Metallica~ Toto ~ Whitesnake~ Def Lepp~ Triumph…. oh… the list goes on!
The house is SURE TO FILL FAST so call TODAY and reserve your table!
There is a $10 cover at the door that will be well spent and will HOLD YOUR TABLE for your party when paid in advance! SO… BRING YOUR AQUA NET.. DANCIN' SHOES… and Prepare to be blown A. W. A. Y
8:00 PM TO 12:00 AM MUSIC
OH HELL YEAH!!! Music starts at 8:00 pm. Come early as I'M sure we will fill up fast!!!
INSIDE ON OUR STAGE
SMOKE FREE AFTER 7:30 PM ON FULL BAND EVENTS!!!
$10.00 COVER FOR EVERYONE STAYING FOR THE ENTERTAINMENT STARTS AT 7PM !
Visit Us
738 N Biesecker Rd.
Thomasville, PA 17364