Welcome to
The Race Horse Tavern
No Matter what night of the week you are planning on coming out …. we have something going on for you! Tell your friends today, and stop out for a good night out!!
Hours
Mon: 3 Pm – 11 Pm
Tue – Wed: 3 Pm – 12 Am
Thu – Sat: 12 Pm – 1 Am ??
Sun: 12 Pm – 12 Am
Location
738 N Biesecker Rd.
Thomasville, PA 17364
OWNED & OPERATED since 1988
About The Race Horse Tavern
A local neighborhood bar introducing a Fresh New menu, Fantastic and Knowledgeable Bartenders and staff, New Ideas. A fun, friendly Atmosphere, Pool Leagues on Sunday,Monday,Tuesdays,Wednesday & Thurdays nights. Karaoke on Thursday nights Also BIKE NIGHTS on Thursdays starting MAY 18TH 2024 THRU OCTOBER. Live music every Friday, Saturday and Sunday inside on our stage or outside on our 4 seasons patio!!! With a smoke free environment after 7:00pm. Seasonal Seafood Sunday's.   We look are looking forward to serving you. And we thank you for your buisness!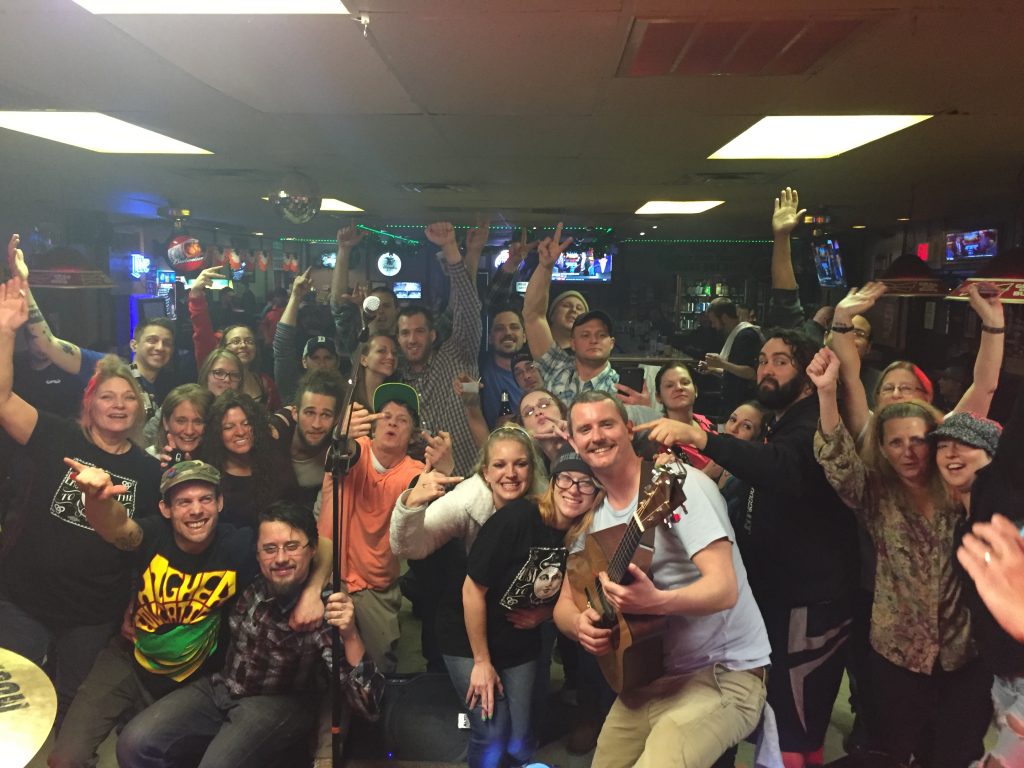 Every WEDNESDAY starting NOVEMBER 8TH
WORLD TAVERN TRIVIA RETURNS !!!
STARTING WEDNESDAY NOVEMBER 8TH 2023 with DJ DUTCH!!!!
EXCEPT THE FIRST WEDNESDAY WHICH IS OPEN MIC NIGHT!!!
EXCITING BAR TRIVIA
Enjoy a night out with your friends while you Eat, Drink, and THINK! Answer topical and exciting questions from hilarious categories designed for you and your team to have fun at your bar. Plus, earn a victory in a Trivia game and you'll be entered into one of our four online National Trivia Championships events – where $10,000 in cash is on the line every year!
THE GAME
Each Trivia game lasts about two hours, with three periods (2 rounds each period) consisting of an assortment of questions in each round.
For each correct answer, your team receives 10 Brain Cells (points). You can also double your Brain Cells during Period 2 or 3 (Rounds 4, 5, or 6).
The team with the most Brain Cells in a period may win a prize from the bar (usually an appetizer or gift card). The team with the most Brain Cells on the night wins any prize the bar may offer, PLUS an entry into our quarterly National Trivia Championships!
ATTENTION!!!
OK peeps this is a public service announcement from the RACEHORSE TAVERN. My family has owned the Tavern since 1988 (35 years). I acquired it thru the untimely passing of my father almost 12 years ago. The reason for this post is this, We've been doing live music on and off since the very beginning and as of the last 20 years at least every weekend. Now to my point the cover charge has always been $5. I have spoken to both sides of this debate for opinions from both sides. I can assure you that whatever comes in at the door is ALWAYS given to the band as part of their pay. As you are all aware EVERYTHING is increasing in price and that the list would go on well into tomorrow, so with that being said we are raising the cover charge at the RACEHORSE TAVERN to $10 on some events and could be more depending on the event. We will continue to have other event's that may require a higher entry price but you will be well informed if that is the case or if it will be a ticketed event.
We try to bring you the very best of local and regional acts, and we will continue to do just that!!!
The other piece of information I would like to let you know is that starting Friday MARCH 3RD all who are present for the start of the entertainment will be expected to pay the cover. For those who have been there for a while such as after work, or just hanging out
we will courteously allow you to finish your drink and or food. no more then 30 minutes, you will then be required to pay cover to stay with us or come back on another day.
For those interested in reserving a table you will be required to pay the cover charge for the entire table based on # of seats you are reserving, or for however many it is sitting at the table, upon entry regardless of when you come in.
Please keep in mind if you are only reserving seats for 2 or 3 people you will be sitting at a table with other cool people just like you.
We will continue to be smoke free after 7PM and WILL stay that way until next business day. We have provided you a 4 seasons patio that is heated and out of the elements for your smoking needs during inclement weather. You may also take advantage of our full service bar out on the patio as well. We will have access to your tab at any cash register if you started one inside you may add to it outside with either food or drinks or both.
Please remember if you have any complaints or discussions about this matter PLEASE address them to me not the bartenders as my Staff will be following my direction in doing their job.
MUSIC 8:00 PM TO 12AM !!!
SURE TO BE A GOOD TIME !!!
FOR A GREAT NIGHT OF MUSIC !!!
Hope to see you all here.
AS ALWAYS WITH FULL BAND'S WE WILL BE SMOKE FREE FOR THIS EVENT AFTER 7:00 PM!!!
$5-10.00 FOR EVERYONE STAYING FOR THE ENTERTAINMENT
STARTS AT 7 PM!!!!
FRIDAY DECEMBER 8TH "SILVER MOUNTAIN" with support from "MADHOUSE"
"SILVER MOUNTAIN" & "MADHOUSE"
This coming Friday December 8th at the
Racehorse Tavern
It's "SILVER MOUNTAIN" a Dio Tribute being supported by "MADHOUSE" A OZZY tribute.
Madhouse will be the opening act at the Racehorse Tavern Friday Dec 8th for the Dio tribute band Silver Mountain. Come out to see both great versions of Sabbath / Ozzy and Dio Rainbow and solo songs
MUSIC 8:00 PM TO 12AM !!!
SURE TO BE A GOOD TIME !!!
FOR A GREAT NIGHT OF MUSIC !!!
Hope to see you all here.
AS ALWAYS WITH FULL BAND'S WE WILL BE SMOKE FREE FOR THIS EVENT AFTER 7:00 PM!!!
$ 10.00 COVER AT THE DOOR
COVER FOR EVERYONE STAYING

FOR THE ENTERTAINMENT
STARTS AT 7 PM!!!!
Every Thursday
Karaoke Every Thursday night from 8:00PM TO ????
Premium Karaoke Entertainment Enterprise located in the heart of York, Pa. Female owned and inclusive, we center our entertainment services around creating a community of friends and fans who love music, singing, and most importantly to have fun!
YOU BE THE STAR ON OUR STAGE ! COME SHOW US WHAT YOU HAVE.
ONCE WE GET ROLLING WE WILL HAVE CONTESTS, PRIZES AND GIVEAWAY'S
Every Thursday "BIKE NIGHTS"
FIRST NIGHT APRIL 18TH 2024
BIKE NIGHTS or Request and trivia as well Every Thursday night from 6PM TO 10PM with  a DJ and different themes each week.!!! OUT ON OUR COVERED PATIO AND HEATED FOR THE WINTER!!!
Starting APRIL 18TH 2024 we will have our "RACEHORSE  BIKE NIGHTS" weekly and  Will CONTINUE on thru until the fall of 2024 when we move into the 4 seasons patio room now called "THE STABLES"!!!!
Each week will be a different theme so stay tuned for upcoming events!!!
THIS WEEK IT'S "TBA" YOU GOTTA PLAY TO WIN !!!
ONCE WE GET ROLLING WE WILL HAVE CONTESTS, PRIZES AND GIVEAWAY'S
SATURDAY DECEMBER 9TH
"EMILY'S TOYBOX" 
This Saturday December 9th The wild man himself is back.
Mike Wise
and his band of misfits "EMILY'S TOYBOX" Returns to the
Racehorse Tavern
.
Add one part irreverent punk personality (frontman extraordinaire, Mike Wise), one part maniacal guitarist (Brandon Reece), two parts dream rhythm section (Rick Lienhard and Muff) and what do you get? One hell of a rock and roll ass-whoopin' you won't soon forget!
Emily's ToyBox cannot (even remotely) be compared to any other independent band on the east coast. In addition to a genuinely unique and powerful stage presence, they have sold more CDs and merchandise during their career than any other independent band in the extended area. However, unlike other bands making similar "claims", this band actually has the tax and sales records to prove it.
Mike Wise, ETB's lead singer and chief songwriter, formed the group in 1997, conceiving it as a pre-fab project that would only be around long enough to pay off bills from his previous band. Formerly a 3-piece, ETB went on to an illustrious career, quickly working their way out of their day jobs, making rounds on the extended Mid-Atlantic circuits, venturing as far as Illinois, Vermont and Florida, playing a thick catalog of in-the-red originals. Hard work and dedication have never been lacking from the Emily's ToyBox psyche.
In 2001, Emily's ToyBox underwent an evolution of sorts that morphed an already powerful regional act into something unbelievably bigger and better. As a four-piece band, Wise gained freedom to roam the stage and audience at will, inciting a kind of enthusiasm not far from mania that leaves the fans drenched, exhausted and always coming back for more.
"We're different," says Wise. "Many bands have said, 'Well, my band's different.' We're one of the few bands who really ARE different." "The four of us are naturally goofballs, but we honestly respect one another as musicians and people. We also don't 'try' to do or be anything other than ourselves. Our personality comes out onstage and in our songs."
Emily's ToyBox is of the rarest breed, continually breaking new ground as an entrepreneurial entity on the independent music scene. With undeniable originality, talent and work ethic, there are no limits to what they will create and accomplish in years to come.
OH HELL YEAH!!! Music starts at 8:00 pm. Come early as I'M sure we will fill up fast!!!
INSIDE ON OUR STAGE
SMOKE FREE AFTER 7:30 PM ON FULL BAND EVENTS!!!
$10.00 COVER FOR EVERYONE STAYING FOR THE ENTERTAINMENT STARTS AT 7PM !
Visit Us
738 N Biesecker Rd.
Thomasville, PA 17364